but my monitor is flashing when driving in ets2 how fix that's?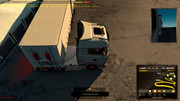 @Ticreut29

When does my train leave tomorrow?
@BenganJ - Dare i say, your "limit FPS addition" is more of a general comment for performance improvement rather than DSR exclusive.
How about a QA instead so non DSR people will see it as well?

Q - My graphics now look great. How can i improve performance and/or reduce stuttering?
A - When the FPS mostly stays below the monitor refresh rate, set a Frame Rate Limiter to a value where the FPS is 90% of the time above it. Otherwise you might get stuttering.

My mobile connection is hopeless at the moment...
@JHTrucker

I simply removed it, as I have that info already in the Frame Rate Limiter comment in NPI settings!
Finally, I fix the problem with my screen. It's was because of MarkC mouse acceleration fix it's was set at the wrong windows resolution, causing problem in-game. Now I set the fix at 100% and no flashing issue happens!
And one thing G sync work well on ETS2 even it's not certified g sync compatible!
Posts: 1
Joined: March 27th, 2020, 11:15 am
Location: Netherlands
Contact:
I have implemented all these setting to get better AA and it is really amazing how much better both truck-games now look. Thanks for this effort and work!
@Sansemiano
Thanks for the report, always nice to get feedback!

Posts: 1
Joined: March 28th, 2020, 6:24 am
@GetTrucked

If you look back a couple of posts we talk about a new Nvidia driver that caused
that error and NPI was updated to NOT allow setting those sharpening parameters.
Nvidia has since released a Hotfix, but as I assume you have updated your driver
I would suggest that you go back to driver version 442.19 - 442.59, then it will
work again. OR, you just skip setting the sharpness through NPI and use Nvidia's
Freestyle within the game overlay to set sharpness.
I found why my game have brightness flickers when playing Ets2, I should no put amd freesync range to 144 hz instead I should put to 141hz it can be see on ets2 max refresh rate is 143hz, also the lower fressync range for my monitor is 23 hz, really good for a cheap monitor
I will try this solution soon, I use cru for configure freesync range!.
Last edited by
Ticreut29
on March 28th, 2020, 1:37 pm, edited 1 time in total.