An invisible wall?
119822;18.432;25797.6;-1.5786;-0.191982

@ Dawid 2849
Thank you for the English city names. :D
Processor: Intel i7-6700K @4.5GHz OC
Motherboard: Asus Z170 PRO GAMING
Memory: G.Skill DDR4-3000 16GB
Graphics: Palit RTX 2070 Super JS OC 8G
Storage: All Samsung SSD m.2 + SATA x2
version 7.9.0 is logical decision.. maybe they overtought after i said about that :D

also.. after original 7.8.0 version for 1.33 there were fix for 1.34 so called 7.8.5 version :)
//
ETS2 v.1.37

+

Roextended 2.6(P)

+RSK Turkey 2.2.+RusMap 2.1+Southern Region 8.0+TGS 1.36 //
Folks, I have to show you and recommend you to drive on this route in the video
I made 24th of June on SRMap during tests and also at the same time converting
model PGM files. I just love these forest roads, that you should know by now. The
reason I have the console showing is so that Sergey & Co. would see when and
where the errors and warnings come. Enjoy!
@Sergey061
Can you verify this invisible wall?
Можете ли вы проверить эту невидимую стену?
EDIT: Sorry, that wall should be there!
РЕДАКТИРОВАТЬ: Извините, эта стена должна быть там!
@Sergey061
I found an invisible wall in the left road lane, when driving south from Krasnodar, at this coordinate.
По этой координате я обнаружил невидимую стену на левой полосе движения, когда ехал на юг от Краснодара.
Code: Select all
goto 109384;17.267;23498.6;2.74309;-0.308639

@Sergey061
A guy at the Promods forum,
xtremealu
, reported about invisible walls too, so I checked it out and here you have three locations and a picture where it is.
Парень на форуме Promods также сообщил о невидимых стенах, поэтому я проверил это, и здесь у вас есть три местоположения и изображение, где оно находится.
Code: Select all
goto 114500;47.2966;34144.1;1.8393;-0.37496
goto 114642;47.4053;34257;0.764764;-0.144824
goto 114671;47.3652;34275.2;1.18052;-0.140644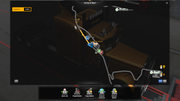 I can also say that there are very many PMG files in there not having the correct version number. Arayas has a way to do it more effectively than driving around.
Я также могу сказать, что там очень много PMG-файлов, которые не имеют правильного номера версии. У Arayas есть способ сделать это более эффективно, чем ездить.
Great work, love it so much, did you rebuild it with DLC balt models and prefabs?
Discord :
https://discord.gg/gnXkTkV
Facebook page :
https://web.facebook.com/moroccomapproject/
Sergey, for 2.4 i will complete the east of Ukraine. Are you still interested to connect Luhansk to Gucovo for Southern Region? I ask because you are not so often here and is good to know for the future.

Сергей, за 2,4 завершу восток украины. Вы все еще заинтересованы в подключении Луганска к Гуцово для Южного региона? Я спрашиваю, потому что вы не так часто здесь, и это полезно знать на будущее.
Of course I'm interested. I saw the city of Kharkov on the last screenshots))) As soon as your new version comes out, I will start connecting with the Southern region ...
 I rarely happen for a banal reason, just a little time because of real work.

Конечно заинтересован. Я видел на последних скринах у вас город Харьков))) Как только выйдет ваша новая версия я займусь соединением с Южным регионом...
Бываю редко по банальной причине, просто мало времени из за реальной работы.
Win-10 64bit, GIGABYTE Z390 AORUS ULTRA, LGA 1151v2, Intel Z390
Intel Core i-7 8700K ,4.8GHz
GIGABYTE GeForce GTX 1080Ti , GV-N108TAORUS-11GD, 11Гб
250 ГБ SSD M.2 Samsung 960 EVO [MZ-V6E250BW],
память - 32 Гг. DDDR - 4/3200