@olaf28

The whole of Kazakhstan has always been his goal, so ....!
seems like version in the internet is not official?
Code: Select all
Map Road to the Aral Sea v1.2 ETS2 1.38.x and 1.39.x Beta Fix My PC: MSI Z87 MPOWER, Core i7-4770K, Crucial 16GB 1866, Samsung EVO 1TB SSD, GeForce GTX 1060 6 GB, Logitech G920
My Combo topic:
viewtopic.php?f=15&t=1640
Right, I have seen that one too, loosevo56, I think has obviously tried to fix things!
Probably without permission, but I don't know!
FunTrucker_18

wrote:

↑

October 9th, 2020, 10:55 pm

Road to Aral is officially abandoned. Don't got the time, don't got the enthusiasm like back in the day to keep this updated. If somebody is intertested to continue, feel free to do it.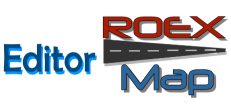 support@roextended.ro
www.roextended.ro
Damn, I have seen that, got too senile now!
Modder
Posts: 639
Joined: December 15th, 2018, 3:16 pm
Location: Germany
It's not official and without permission. And the fix made the map even worse.

I got respect for his attempt but there are following issues:

-He only tried to fix the name display issue, but not the broken connections.

-He didn't ask me for permission. A message like: "Hey I'm gonna rework your map!" would've been enough.

You guys know me, I'm not a dick and I'm quite fair, so that wouldn't be the problem.
In the map files: The Great Steppe and Road to Aral 1.2, there are two identical cities:
@include "city / kazakhstan / aralsk.sii"
@include "city / kazakhstan / shalkar.sii"
To display cities on the map: Road to Aral 1.2, you must disable or delete two duplicate cities (Shown in the screenshot).
This is the first and second in the Aktobe area, texture sinkholes in many directions, road breaks in the Northeast and subsequent crashes.

@losevo58

What's your problem? Why reporting those two posts, as everything has been cleared here
long before you came here today? Did you get Funtrucker_18's permission?
Modder
Posts: 639
Joined: December 15th, 2018, 3:16 pm
Location: Germany
I still don't got a message from him.
@FunTrucker_18

Right, but he left that suggestion and reported two posts, one of yours and one of mine,
but he then retracted both later, after my post.