Hello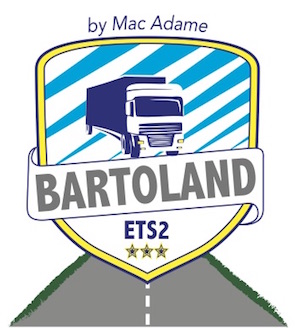 Bartoland, map for ETS 2, is a scale 1 map, and starts in Vendée.
This is not a copy of reality, I more or less respect the layouts on the main roads,
I place elements in the villages that copy reality as best I can,
I respect regional elements as best I can, but I let go for everything else ...
which makes it an original menu, sometimes delirious, that you will discover with pleasure.
The current version (2.0) of June 2020 is running on ETS 1.38. It includes:
- 18 towns or cities
- 94 enterprises
- 9 garages
- 240 kms of roads and paths
with some original "zones"....
CityRIP
Pandora
Courmagny
Atlantis
Inception
Navarro Valley
and it will continue to grow...
All DLCss are required...
You can see on my site ;
http://bartofer.free.fr/
or Facebook :
https://www.facebook.com/groups/bartoland/
Youtube :
https://www.youtube.com/channel/UCqhE15 ... 0zgVHvor-A