============= The first post has also been updated with almost the same info! =============
Posts: 34
Joined: September 30th, 2019, 7:56 pm
Hello Sergej,

Are going to make a connection for Poland Rebuilding ?

Добрый вечер, Сергей,

Будет ли коннектор также для Польши?
Gabrielius_logistic @ Arayas will hopefully release a universal connector.
I will make a connector for communication between Rusmap, Promods and Poland.

Gabrielius_logistic@ Араяс, надеюсь, выпустит универсальный коннектор.
Я же сделаю коннектор для связи Русмап, Промодс и Польша.
Win-10 64bit, GIGABYTE Z390 AORUS ULTRA, LGA 1151v2, Intel Z390
Intel Core i-9 9900K ,5.0GHz
MSI Gaming X Trio GeForge RTX 3080
250 ГБ SSD M.2 Samsung 960 EVO [MZ-V6E250BW],
память - 32 Гг. DDDR - 4/3200
Thank you Sergey061
System: Windows 10 PRO
Processor: Intel i7-6700K @4.5GHz OC
Motherboard: ASUS Z170 Pro Gaming
Memory: G.Skill DDR4-3000 16GB
Graphics: 6GB MSI GeForce GTX 1660 SUPER Gaming X
Storage: 2 Samsung EVO SSD
Thanks Sergey! Spasibo!
English is NOT my mother language, so my grammar may not be correct. Sorry. :(
Until Sergey makes the new connection and spending some time to update the FULL one based on newest connections you still can use your combo replacing RusMap 2.2.1 with 2.3.1
Tested on the combo from the picture and please report if something is wrong.
https://sharemods.com/3x3lm6bd3vpm/ROEX ... l.scs.html
Пока Сергей не установит новое соединение и не потратит некоторое время на обновление ПОЛНОГО соединения на основе новейших подключений, вы все равно можете использовать свой комбо, заменив RusMap 2.2.1 на 2.3.1.
Протестировано на комбо с картинки, сообщите, если что-то не так.
https://sharemods.com/3x3lm6bd3vpm/ROEX ... l.scs.html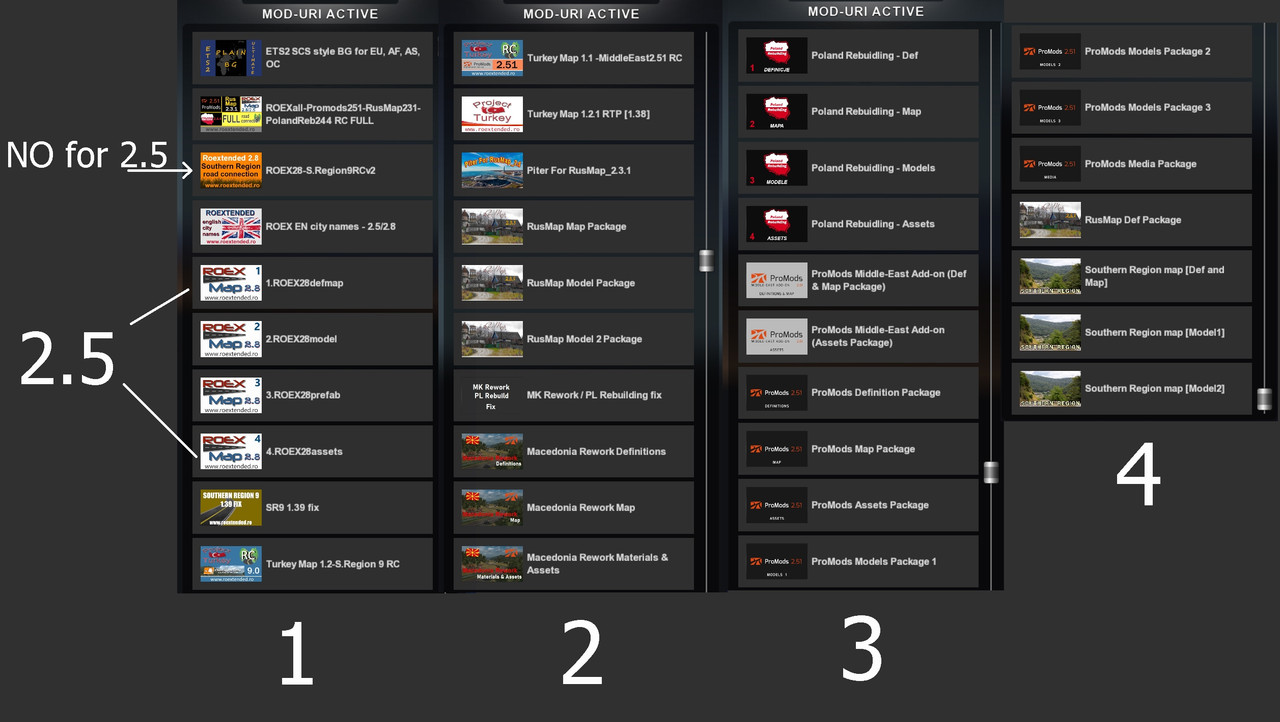 Arayas...you have been busy tonight
That doesn't really surprise me. But still my compliments for the hard work
TerraMaps

Support Manager
Red Sea Map I Caribbean Map
Discord:
https://discord.com/invite/kvqE3z3
Windows 10
Processor: i7-9750H 2,6 GHz (max. 4,5 GHz)
Memory: 16GB
Graphics: ASUS ROG -STRIX-RTX2060-O6G-GAMING 6 GB GDDR6
@olaf28
Right, the so called RC chaos is rolling!
Black Friday, drop dead!
Does their happen to be a connector without Poland Rebuilding included?
I don't use that mod.

Thanks.