Arayas, coming from the south into Trabzon, Turkey, there's an
aircraft just hovering in the air, not moving at all. Image is from
John H's video, made tonight on YKSRSK 1.8!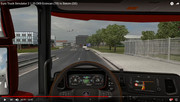 EDIT: Wombat'ed there myself and found out that the aircraft had it's resting position there, but
after a while it moved away as it should. But that looks weird when coming from the south at least
and need some love from you Arayas!