I invite you to ask any questions in this thread, of course, within the forum rules!
- If possible, then fix the topic on top ..
If a similar topic already exists, for free communication on different topics, then I apologize! Searched, but could not find ...
Somewhere here on a forum or other forums, I saw a person was engaged in drawing up a general map in the form of a drawing from different developers, that is, this map shows where which map is located and what territory it covers, I don't remember exactly, but perhaps cities are also indicated ...
It is very useful to know what coverage is (map - cities) on the territory ...
If anyone has seen, then skinte the link, thanks ..
Sorry for my English!
Found..
Vector map of mods on post-Soviet territory.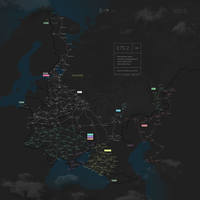 It is a pity that not all popular fashion is here ..
If you find something like this, share the link