@Stilgar

In what way have you modified the Thin Lines Eurasia BG?
Just personal colors and damage data to zero

Sorry for the confusion

I was too lazy for an extra mod
Company: Universal Transports -- Headquarter : Hamburg
@Stilgar
Right, you can do it via a mod with .sui files. And you refuse to follow my advice I see!

Putting the World Map BG at the very top of MM, with the only exception of those .sui file
mods changing things in map_data.sii, like the Sinagrit Baba's addon mods!!!!
PPM
Posts: 94
Joined: August 13th, 2020, 7:43 pm
Location: [PL]
Hi Stilgar

I have a question, if I remember correctly, You used the better flares mod with jazzcat additions, now they are not in your combo. What reason did you have to quit? I would like to test and preview the load order you had - which if I stuck it worked properly ;)

I have a feeling that I will also have to start with a new profile because the current one has "grown" from mods to sizes and problems that I don't want to deal with.
The reason is that I just upgraded to 1.38 and haven't found time to test better flares in 1.38

My other profile is a true driven level 100 profile and have seen too many mods come and go.

The new profile I will use more strictly what mods are really needed, you see that I have only a few ai mods because if you for example add the bdf mod from jazzycat you see roughly 80 % bdf's in traffic the same goes for his ai pack.

Some are grown too large and they are going all in the some spot (truck / cars) but SCS will spawn only a limited number.

Where is the diversity in traffic greater : 80 out 900 or 80 out of 160 ?

Probably you'll say 80 out 900 it would be correct if not 600 are bdfs or so. The chance are high that SCS will spawn a bdf which leads to 80% visibility I mentioned above.
Company: Universal Transports -- Headquarter : Hamburg
PPM
Posts: 94
Joined: August 13th, 2020, 7:43 pm
Location: [PL]
Thanks for the answer, I noticed that I wanted to achieve the highest possible realism in the game in the last few months and the number of mods that were supposed to do this did not necessarily give this effect. I'll have to make a "bill" of sense using some.
PPM
Posts: 234
Joined: April 10th, 2020, 10:35 pm
Location: Corfu, Greece
It's working fine with all the addons
Hi guys,
with only Rusmap, Steppe, SR and Volga activ i get a missing prefab for tollyatti and ershov.
Here is the gamelog :
http://rhuidean.de/20200831gamelog.txt
Load order is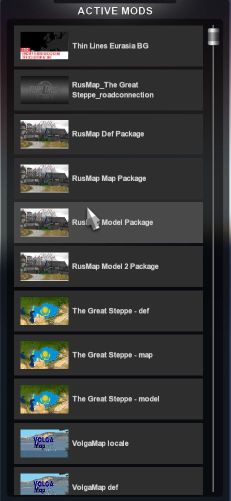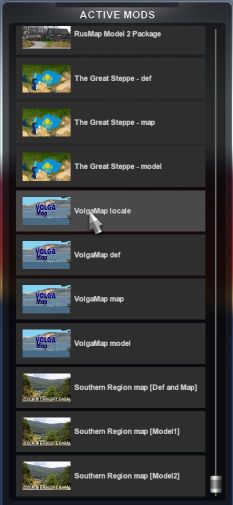 Is there a mistake ?
I have the last volga map file from Sergey061 active
Thanks for any hints.
Company: Universal Transports -- Headquarter : Hamburg
PPM
Posts: 94
Joined: August 13th, 2020, 7:43 pm
Location: [PL]
By the way, I will add that there is no visible road to Mineralne Vody on the map
Has anyone an idea why the images in the first won't load anymore.

The Filename is correct.

Thanks
Company: Universal Transports -- Headquarter : Hamburg