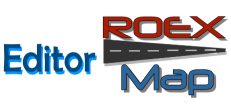 support@roextended.ro
www.roextended.ro
Really nice, Arayas ;) ;)

System: Windows 11 PRO
Processor: Intel i7-6700K @4.5GHz OC
Motherboard: ASUS Z170 Pro Gaming
Memory: G.Skill DDR4-3000 16GB
Graphics: 6GB MSI GeForce GTX 1660 SUPER Gaming X
Modder
Posts: 653
Joined: December 15th, 2018, 3:16 pm
Location: Germany
Skins look crazy cool tho. Also, some interior mods for the trucks would be nice. I'm looking for some wooden tan for my RJL T truck for a long time. All available interior skins are outdated or crappy.

Loving the new interior for the Volvo! That was a nice surprise - Thank you!
PPM
Posts: 464
Joined: February 24th, 2021, 3:06 am
Location: Phoenix, Arizona, United States
Contact:
These are some nice skins! Thank you!
PPM
Posts: 1
Joined: November 26th, 2021, 1:56 pm